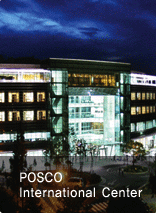 Posco IC is located on POSTECH campus, it provides facilities for international conferences.
See a campus map.
There are two types of rooms, standard (one double bed, they are all booked up!) and twin (two single beds), both with the same price.


Rate for AAAC participants: 80,000 KRW per room and night (excluding 10% tax) for registration before March 19. 2010.


As there are only a limited number of rooms available, we recommend to book your hotel room as soon as possible. Please fill in the registration form below and email/fax it directly to the hotel.


POSCO IC hotel registration form in .doc format